Don't Try to Hook Up with Girls When You are Broke
Hooking up with people always has some sort of awkwardness involved. Hooking up with someone you don't know is even worse while you're there, but someone you know makes it worse, after the fact. Somehow I have found a way to combine those two worlds and push my life to the edge of the cliff, with a terribly awkward encounter waiting for me at the bottom. If you haven't figured it out by now, I hooked up with someone I just met. I just met this person because I just started my new job, so I met her there. I have been there for one week so far, and I have already managed to make it weird.
I am a pretty shy guy, especially when it comes to new people and places, so this is particularly tough for me to endure.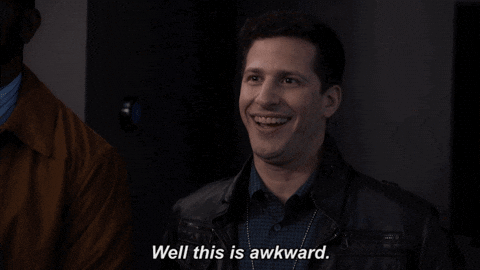 To celebrate our first week as employees, the 'new joiners' as they called us decided to embark upon a night out to some happy hour pubs. I have a few qualms with this. #1 of course we are new joiners, what other kind of joiner would we be? Bad joke, but hey: Self Awareness is important. We live and we learn. #2 Happy hour in NYC is basically just a time because the change in price is almost nothing. When I was in college a beer at peak hours, think Uber surge, was about $3. In NYC, Happy Hour is about $6. I am not one to complain, but I mean you cannot expect me to afford a good time AND laundry, maybe that is why everyone complains of the Big Apple Smell.
Anyway, when I was asked to partake in such an event I had to quickly run different scenarios through my head. As mentioned, I consider myself a shy kid, not looking to get myself in situations I don't feel comfortable, so this analysis was necessary.
I recently spent more money than I had in the bank account to lease an apartment, so I was running low on cash. 'Go home,' the situation called for. But then I thought about it, "And end the night feeling lonely and bereft of friendship/ sexual companion again?" No thanks, I have lived with my parents for too long to finally be free, only to return to the dungeon. I took the chance and went out. Yes, I am broke and poor, but maybe I can swing a lady to help me forget about my problems for a night. Most people turn to drugs, but not me. Not because I am better than those, in fact I envy them, I am just a pussy.
So I convinced myself to enjoy the night.
After spending about 50 bucks on a few drinks I started to get the night going, feeling myself a little bit. I was vining with a co-worker, so in my head I played out more scenarios of how the night could end. That's a common theme in my life. Think things out in my head and over play everything. That's why I'm so indecisive and timid.
I ended up going home with said co-worker. Given everyone at the bar, was this my first choice? Absolutely not, but you know what I was desperate, for a woman, for a fun time, for a ride home. I went, and guess what? Fun time. Guess what else, neither of us quit or got fired, so we still work together. So that's fun. I know its commonplace to 'hookup' with coworkers, but for me I cringe at the overplayed awkward situations I make up in my head so its miserable. Going to an all boys school made high school a lot easier for me, because as a straight man, it was much easier to get my reps in sexually and not awkwardly see that same girl walking toward me on the other side of the hall. In hindsight it may have underprepared me for situations like this.
Do I make it a point to talk to her now? Do I talk to her more than her friends? Do I ask her to get coffee? I don't know, but I do know this. I currently have -$56.79 in my bank account.
Good night.