Oh Yea, That's Great. Keep Winning
Awesome, just what we needed another win! This is going to help out a lot down the road. Moving our 2019 pick to the middle of the pack and yet still fall short of making the playoffs. Great way to welcome a new head coach and GM.
It's pretty clear that Gettleman is trying to low-key 'tank' at this point. I mean the way the team is treating Saquon, OBJ, Engram etc. in regards to their playing time and how they use them, just screams caution. You can't blame him either. After about Week 5 it was all but certain the New York Football Giants were going to miss the playoffs for the second straight year. So as any good GM would do he started dropping cargo. A couple terrible lineman here, a really good defensive lineman there and boom, we get some mid round picks and we're gearing up fir 2020.
But then as the Giants have been doing for 2 years now, they have played exactly the opposite of how I, and most rational fans out there, would want them to! Just great. It's kind of like when you're single and as my Grandfather so aptly puts it, couldn't hit water if you fell out of a boat. But if you're with someone, all of the sudden J Lo, Ariana Grande, and that hot girl from middle school are slidin' in the DMs. The grass is always greener.
Well as it goes with the Giants, the grass is alway browner. I made that up, what do you think? But for real, every time I think either: "Wow, we have a great team, we should win a lot" or "Ok, this is good we'll lose out because we are horrible and get a good pick" the opposite happens. I feel like a Jet fan which is a horrible feeling. We are the Giants, the big brother, the alpha of New York football. We are not a joke of a franchise with horrible colors. Fix it!
I understand there are two camps out there in regards to the Giants season. The 'lets tank and get a good pick' side and then the much dumber and single minded 'we need to win, bro' team. Here's why I don't get that argument. A lot of this is personal opinion, but I don't see how there is a debate. While I obviously don't think the Giants should purposely lose, I don't think they should be playing Saquon, Obj, etc. I know I mentioned that they have altered their playing time, which is great, but it's half-assed. If they are going to play less, don't play at all! Go all in. The simple truth theres are our top skill players, they only have so many hits in them for their career. Saquon seems to make every first player miss, and I love it, but it only makes him that much more vulnerable to injury.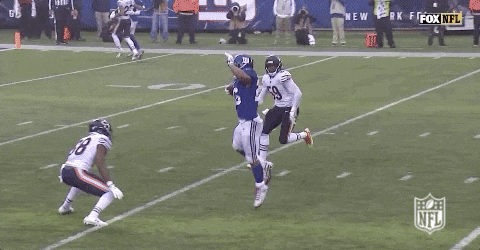 The other reason of course is the draft pick. You can make the argument that we may not get a great QB this draft class anyway, or whatever, but guess what, its a better pick. TRADE! Draft someone else! Anything!
To, 'on purpose' get a worse draft pick is just a ludicrous way to run a franchise and all for what? To keep the integrity of the game for one season? Yea, tell me that in 30 years if they haven't won another Super Bowl. The Giants have been playing better yes, but they are still bad. They won't make the playoffs, that is a 'T-Guarantee" so I promise you, this season will be forgotten by most fans very shortly. So if we are bad, embrace it. Get a good pick and move the franchise forward. Long term think, big picture strategy idiots, look it up and maybe there will be another Super Bowl coming to the Meadowlands sooner than later.
P.S. Saquon and OBJ combo is too good to waste. Plz listen.
P.P.S. Eli, thank you for everything, but you're done. Get Kyle ready!